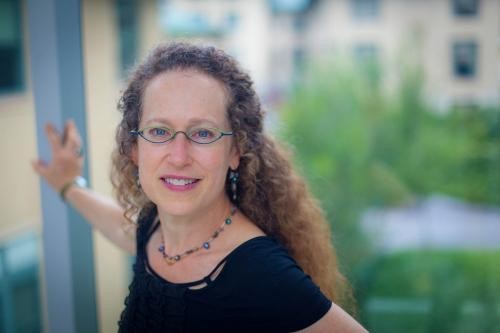 Justine Cassell is one of three keynote speakers at this year's Grace Hopper Celebration of Women in Computing Conference, the world's largest gathering of women technologists. Her topic — how social interaction improves robot performance — is at the heart of her research agenda.
But she'd really rather discuss a second talk she's giving at the Sept. 26–28 conference in Houston, the one about how the #MeToo movement is helping women recognize systemic sexism within the tech world.
"I'm seeing something happen now that I last saw in the 90s," said Cassell, associate dean of technology strategy and impact for the School of Computer Science. It was common then for women in computer science to declare, "I have never experienced sexism of any kind," she said. Yet a common complaint among women, then as now, was that they were often dismissed as difficult.
"Because of the #MeToo movement, many women are realizing that such a criticism may not be their fault," she said. "If it's happening to all of us, it can't be just about me."
This sexism persists despite efforts to boost the number of women in the field. Virtually half of the first-year students at SCS have been female for the past three years, for instance, and industry leaders have supported programs to boost the number of women in the tech pipeline for years. Yet women continue to be underrepresented in the tech industry generally, and particularly in technology jobs within the industry. And at the very highest levels, women are just a small percentage of executives.
"We are leaking women from the top of that tech pipeline," Cassell said.
"For the most part, this is not done intentionally, of course," Cassell said. "There are plenty of well-meaning people." But an unconscious bias persists, she maintained, which leads to women too often being evaluated based on their weaknesses, while men are more often evaluated based on their strengths.
Women may tend to internalize these criticisms and blame themselves for the failure to progress in the field, or to be elected to positions of power and authority as they become more senior. But the #MeToo movement is helping them realize the problem lies beyond themselves, Cassell said.
"It's not you. You may or may not be difficult. But you're not any more difficult than anyone else in the field," she added. This realization is important for effecting change.
"Only when a bunch of people see this systemic bias and complain about it do things change," Cassell said. "So you have to make it visible."
Her speech is one of a number being presented by prior winners of the Anita Borg Institute Women of Vision Awards. Cassell won the 2008 award for leadership.
As usual, Carnegie Mellon will be well-represented at the three-day conference, with 40 SCS graduate and undergraduate students planning to make the trip, said Carol Frieze, director of Women @ SCS and SCS4ALL. Lani Frazier, who earned a master's degree in information technology management at the Heinz College of Information Systems and Public Policy in 2002, is co-chair of the conference, which is co-presented by the AnitaB.org (formerly the Anita Borg Institute) and the Association for Computing Machinery. Distinguished Career Professor of Computer Science Lenore Blum will host a dinner for the SCS women attending the conference.
For more information, visit the Grace Hopper website.
Byron Spice | 412-268-9068 | bspice@cs.cmu.edu