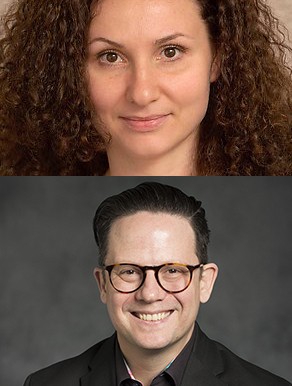 Yulia Tsvetkov and Christopher Goranson have each received grants of $90,000 from the Public Interest Technology University Network (PIT-UN) as part of the organization's Network Challenge. The program, in its inaugural year, supports the development of new public interest technology initiatives and institutions in academia, and fosters collaboration among the network's partner institutions, including Carnegie Mellon University.
Tsvetkov is an assistant professor in the School of Computer Science's Language Technologies Institute (LTI). Her grant will support a project that aims to bridge the ethical gap in computer science education by helping institutions teach socially responsible language technologies. She currently co-teaches a course in computational ethics, which introduces students to real-world language technology applications while addressing ethical implications and risks posed by language technology and other artificial intelligence (AI) tools.
"Billions of citizens use social media, email and text messaging platforms built upon language technologies. These tools have become increasingly prevalent in data analysis, providing services on the web, even providing means for disaster response," Tsvetkov said. "But there is also a growing awareness about the negative side: bias in AI tools learned from user-generated data, pervasiveness of hate speech, propaganda and fake news."
The award will help to expand the course for both graduate and undergraduate students and to develop open-access educational materials including video lectures and slides, lecture notes, assignments, creation of a textbook, and sample course projects.
Goranson is a distinguished service professor in the Heinz College of Information Systems and Public Policy. He leads the Policy Innovation Lab (PIL) course, a new initiative that connects students with actual policy challenges and introduces an agile, design-driven framework to rapidly create solutions to those challenges. With his grant, he aims to develop an open-access, open-source starter kit and fellowship program that formalizes the PIL course framework. The starter kit will help PIT-UN member universities train future public interest technologists by adopting coursework that encourages rapid experimentation, novel approaches and viable solutions that meet the needs of end users.
For More Information
Byron Spice | 412-268-9068 | bspice@cs.cmu.edu
Virginia Alvino Young | 412-268-8356 | vay@cmu.edu