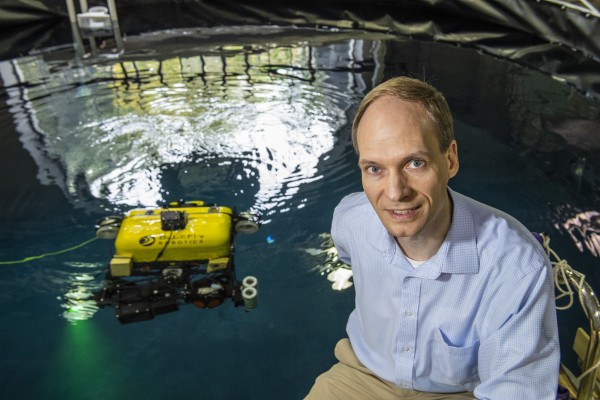 Michael Kaess, associate research professor in the Robotics Institute, and Frank Dellaert, a Ph.D. alumnus of the School of Computer Science and a professor at Georgia Tech, are winners of the inaugural Robotics Science and Systems Test of Time Award.
The award recognizes the highest impact papers presented at the RSS conference from at least 10 years ago — papers that changed thinking, identified new problems, or pioneered new approaches to robotic design and problem solving.
Kaess and Dellaert were cited for a pair of papers from 2005 and 2006 — one by Dellaert and one co-authored by both — concerning simultaneous localization and mapping (SLAM). This is a method widely used in autonomous robots for constructing or updating a map of an unknown environment while keeping track of the robot's location within the map.
They will present an award keynote during this year's RSS 2020 conference, which is being held virtually. Their talk, "Factor Graphs: Exploiting Structure in Robotics," will be at 1 p.m. EDT on Tuesday, July 14, and will be followed by a Test of Time panel session on the topic.
Kaess received his Ph.D. in computer science at Georgia Tech with Dellaert as his adviser. He joined the Robotics Institute, where he is director of the Robot Perception Lab, in 2013 after working as a research scientist at MIT. His research is focused on mobile robot autonomy.
For More Information
Byron Spice | 412-268-9068 | bspice@cs.cmu.edu
Virginia Alvino Young | 412-268-8356 | vay@cmu.edu